If you're looking for the most convenient way to travel around Jeju Island with your own group, take a close look at this guide to Jeju Taxi Tour!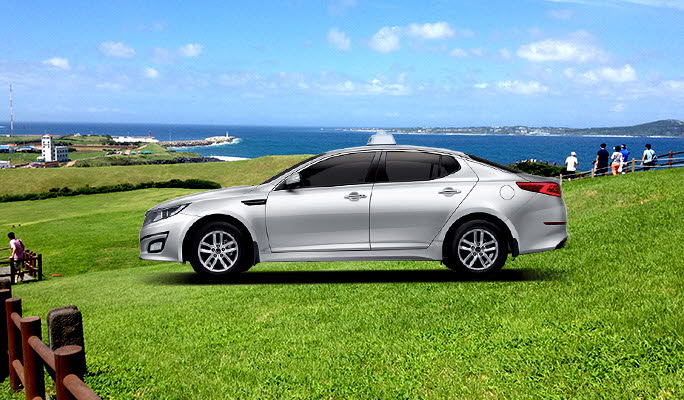 The extraordinary formation of volcanic cones, bright yellow canola fields, and the turquoise-blue waters are just some of the reasons to visit Jeju Island that lies far south of the Korean Peninsula. With its rich culture that has uniquely developed away from the mainland and the natural wonders that you will encounter in no other regions in Korea, Jeju Island is surely a must-visit destination once in your lifetime.
The vast volcanic island, however, does not offer enough public transportation options compared to major cities in Korea. There is no subway system and the interval between buses is long. It's not impossible to travel only by public transportation in Jeju Island, but it can be quite time-consuming. To save your time wasted on the roads, it's highly recommended to choose either renting a car or joing a tour.
1. Why do so many travelers take taxi tours in Jeju Island?
---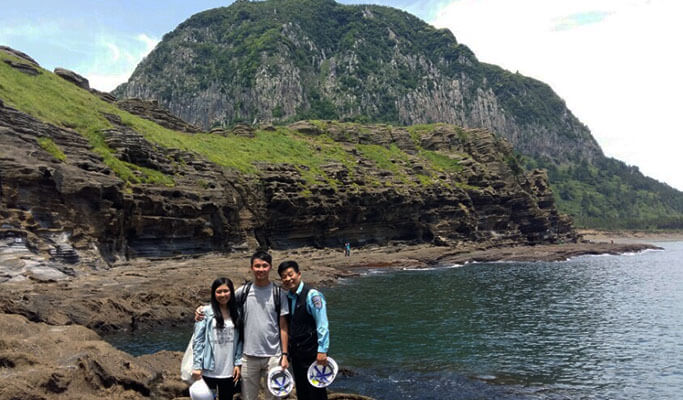 ---
If you don't want to drive by yourself, you'll have to take a tour. Then, here comes the next thoughts. Can I travel within my own group? Is it possible to travel at a slower pace because I don't want to be rushed? 
For those questions, the answer lies in Jeju Taxi Tour. If you're traveling in your own group (or even a solo) and would like to be free from a fixed timetable, taking a taxi tour will be an excellent choice. A friendly English speaking driver will well cater to your needs and take you to the best spots in Jeju Island.
2. What's so good about Jeju Taxi Tour?
---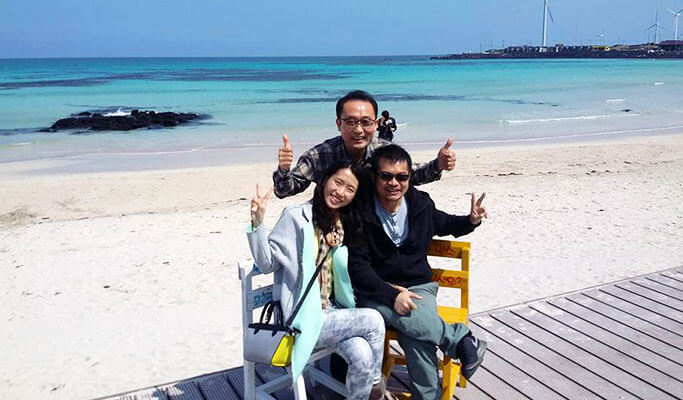 1) Door-to-door pick-up & drop-off
---
Unlike some other join-in tours that ask you to go to a designated pick up location, Jeju Taxi Tour will offer a transfer service right at your hotel in Jeju Island or Jeju International Airport. No hassle is needed to get to the meeting location for your tour.
2) Your own Itinerary for 8 hours
---
Probably, it can be the best merit of Jeju Taxi Tour. As you will create your own flexible itinerary, you won't be pushed to follow a fixed schedule. You can stay at your favorite attraction as long as you want and travel at your own pace.
3) Everything inclusive with no hidden fees
---
Arranging a private tour, those questions may frequently arise: What about our driver's lunch? Toll? Gas? Parking? Tips? No worries at all. Trazy's Jeju Taxi Tour covers them all. What you need to prepare is your own pocket money for entrance fees of your preferred attractions, meals, and personal expenses.
4) Knowledgeable local as your driver
---
Here are some real reviews of the customers who have tried Jeju Taxi Tour service from Trazy. The reviews tell us how insightful and informative the drivers are about Jeju Island. As the drivers are Jeju locals who have lived on the island throughout years, they are able to share stories and tips that are not usually told in the guidebooks. See some of our reviews below.
Diane / United States / Jan 9, 2018

This taxi tour was worth every dollar! There were four us and we did a one-day tour of the suggested itinerary for Eastern Jeju. We had Mr. Kim Si Nam as our driver and he is definitely our favorite person ever. He made the trip easier and definitely more enjoyable than if we didn't have him with us. He was so excited, kind, personable, and engaging. He was very informative and even took photos of us at each destination! (……….) I would definitely recommend this tour to everyone! We miss Mr. Kim!!!
Anne / Philippines / Nov 21, 2017

This was the perfect way to see beautiful spots and get to know a part of Jeju Island. Our driver was Mr. Raymond Cheon and from the get go, he was friendly and personable. He even went above and beyond driving and shared great bits of history about the island, the people, and the culture. He's super talented at photography too, if you want picture perfect memories of your Jeju vacation, he's your man. 5 stars all around! Thank you and we hope to come back!
Arthur / Malaysia / Aug 30, 2017

Jeju Taxi Tour was very pleasant. The driver was very friendly and approachable. He was also able to speak relatively fluent English. He was also very informative about what Jeju had to offer. He was very flexible with the itenerary and was able to recommend good lunch and dinner places to eat at. In summary, our trip was very pleasant and we had a great time.
3. How many people would fit in a taxi tour?
---

---
Trazy's Jeju Taxi Tour can accommodate from a solo traveler to a group of 8.
※ If you're traveling in a bigger group with 8~14 people, check out Trazy's Jeju Mini Bus Tour.
4. Where to visit by Jeju Taxi Tour
---
---
What comes difficult in arranging a private tour with a custom itinerary is to decide where to see and what to do. Especially if you're a first-timer, it'll take more time and effort. Trazy's Jeju Taxi Tour will solve this hassle as well. Within the 8 hour tour, you can choose between the east course and the west course, and specifically decide which to visit up to 5 destinations.
See the suggested itineraries below.
1) East Course
Manjanggul Cave – Woljeongri Beach – Seongsan Ilchulbong Peak – Aqua Planet – Jeju Folk Village
You can combine the attractions below instead of the suggested east course.
2) West Course
Yongduam Rock – Hyeopjae Beach – Glass Castle – O'Sulloc Tea Museum – Cheonjeyeon Waterfalls
You can combine the attractions below instead of the suggested west course.
5. How to book Jeju Taxi Tour with Trazy
---
You can book Jeju Taxi Tour online on Trazy.com. To travel Jeju Island on Trazy's Jeju Taxi Tour, simply follow these steps.
• Visit the booking page for Trazy's Jeju Taxi Tour.
• Choose the vehicle between Taxi (~ 4 pax) or Van (~ 8 pax).
• Choose the pick-up location between  Jeju City, Seogwipo City, Jeju Airport and Jeju Int'l Ferry Terminal.
• Choose your travel date and pick-up time.
If you have any questions about Trazy's Jeju Taxi Tour, please contact us via LINE, KakaoTalk, Facebook messenger or e-mail (inquiry@trazy.com). We are always happy to assist you!
SEE MORE:
| Other Tour Options in Jeju Island
| Cheap Attraction Tickets in Jeju Island
| Jeju Car Rental Guide
Looking for other transportation options to tour around?
Don't forget to visit Trazy.com, Korea's #1 Travel Shop, for more activities and travel ideas for your holiday to Jeju Island!