Sweat it out at Dragon Hill Spa, the best Korean spa in Seoul, Korea!
What better way to unwind and de-stress in the city than to treat yourself to a spa day?
For Koreans, one of the most popular and unique ways to relieve stress and get pampered is by enjoying a Korean sauna at a traditional Korean bathhouse called "Jjimjilbang (찜질방)".
For foreigners, these Korean public bathhouses offer you the most authentic and unique cultural experiences such as getting naked in the public and soaking in a bathtub with other people, all of which will blow your mind away.
To show you what it's like to experience Korean sauna culture and what you can expect at a Korean spa, I, a member of Trazy Crew, visited Dragon Hill Spa in Seoul, the most famous Korean spa in the city.
Check out this guide to Dragon Hill Spa with a summary of my experience plus tips below!
Dragon Hill Spa at a glance
---
---
Dragon Hill Spa is open 24 hours a day and all year round so you can visit the spa any time of the year. It is a great late-night spot to hang out with your special ones and the perfect place to escape the heat, cold and rain.
Along with spa and sauna, Dragon Hill Spa offers you a wide range of amenities as well, such as internet cafe, fitness center, arcade center, and even a karaoke.
Offering more than just a spa, it has been featured in many famous Korean dramas and TV shows, such as a popular Korean variety show called "Running Man". It was also named as one of the three best saunas in Seoul by CNN.
With signs and menus in English, Japanese and Chinese, the spa is also very foreigner-friendly. It's no wonder it's popular among foreign tourists!
Tips for those want to visit Dragon Hill Spa
---
1. Take advantage of online discount tickets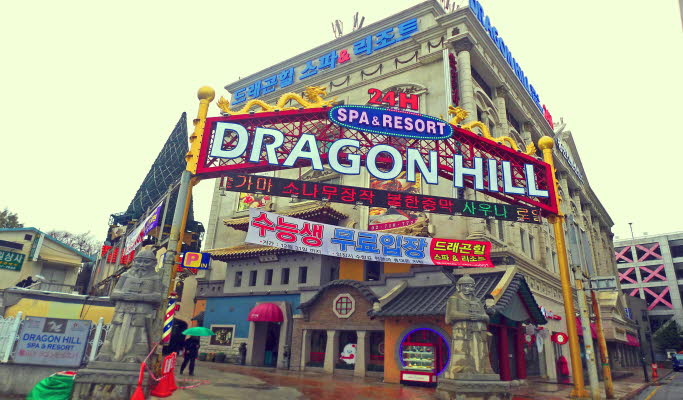 While you can buy tickets at a regular price on site, you can also get discount tickets to Dragon Hill Spa on Trazy.com. If you buy from Trazy, all you have to do is show your mobile voucher.
2. Take the subway
Located in the district of Yongsan in central Seoul, it is very easy for first-time travelers and visitors to get to Dragon Hill Spa and taking the subway is highly recommended if you are not used to taking the local buses. From Yongsan Station's Exit 3, you can spot Dragon Hill Spa on your right.
Tips on getting prepared at Dragon Hill Spa
---
Once you show the mobile voucher from Trazy, you will receive sauna uniform for a change and a bracelet-like key.
This key opens all of your lockers (for shoes and clothes) and you can use this key to make a payment when you buy food and snacks at the cafeteria inside the building. So never ever lose the key!!!! If you lose the key, better run up to the front desk and ask for help.
Now, you must first change into sauna uniform.
If you are a lady, take the elevator.
If you are a man, enter the passage on the left.
Follow the sign and enter the changing room. Then, look for the locker according to the number written on your key. Put all your belongings and anything valuable inside the locker.
Change into the clothes that you received from the front (don't take off your underwear! ;).
Tips on what to enjoy in Dragon Hill Spa
---
1. Don't miss these Jjimjilbang foods
Head to the cafeteria or the snack bar on the 1st floor to try Jjimjimbang foods.
One of my favorites is these Jjimjilbang eggs, which are very, very popular treats served in Korean bathhouses.
Other bathhouses usually serve two kinds – a boiled egg and a roasted egg, or "Maekbanseok (Stone-plate Cooked Egg)" in Korean. But you can find 3 kinds of eggs at Dragon Hill Spa.
Koreans usually drink "Sikhye (Sweet Rice Drink)" together with the eggs. It is traditional Korean beverage made with rice. It has some grains of cooked rice inside. Drink a glass of ice cold rice juice after sweating out in the saunas – 100% satisfaction is guaranteed!
2. Chill out at the public resting zone
At the entrance of the public resting zone, you can find the rectangular cushion or pillow.
Grab one of these and lie down, watch TV and enjoy Maekbanseok eggs and Sikhye with your friends and family.
It was kind of surprising to see so many numbers of people at the Dragon Hill Spa during the weekday, even when I visited late at night. I guess that's because Dragon Hill Spa is really famous.
3. Try a bit of every sauna room in Dragon Hill Spa
Now, if you are ready to enjoy some sauna, choose a type of sauna room you want to experience.
Dragon Hill Spa offers several types of sauna rooms and zones, such as Pyramid Meditation Room, Nephrite Jade Energy Room, and Hinoki Woodland Room, so just choose the right place according to your preference (I would say, the temperature you can withstand)!
If this is your first visit, I highly recommended these sauna rooms.
Here's the Crystal Sun Salt Room, which is one of my favorites. Among many sauna rooms at Dragon Hill Spa, this is the most unique room, which is filled with salt pebbles everywhere. But do watch out when you walk on these little pebbles – they can be a bit painful.
If you opt for heat and steam, try the Korean traditional charcoal kiln, which looks like an igloo. These sauna rooms are different in temperatures: low, medium and high.
The low-temp steam room is neither steamy nor hot. If you want more heat, you may want to move to the mid-temp room right next to it.
For those who don't like the heat, run over to this ice room!
It's a perfect spot to cool off after sweating out in the hot sauna. But since it is freezing cold, you'll probably want to get out of this room after 2 minutes.
4. Use a massage chair to relax your muscles
You can also find these comfortable massage chairs in front of the Korean traditional charcoal kiln. Just put your key and you can use these massage chairs and get a great leg and back massage 🙂
5. Do explore other areas or floors in Dragon Hill Spa
Since Dragon Hill Spa is a 7-story building, there are plenty other entertainment and amenities for you to explore and enjoy.
| BASEMENT: Cinema Hall, PC room
| 1st FLOOR: outdoor hot spring pool, various spa zones, snack bar, and public resting zone. Royal Orchid Spa at an additional cost
| 2nd FLOOR: female sauna, female outdoor bath, and sitz bath
| 3rd FLOOR: female locker, female-only rad clay sauna, and facial saving & skin massage room
| 4th FLOOR: gym
| 5th FLOOR: male sauna, male locker, cold bath, aroma gold wet sauna, and men's hair salon
| 6th FLOOR: Thai massage shop, male-only Hinoki bath, male-only red clay sleeping room, female-only sleeping room
| 7th FLOOR: Sky Garden, Garden Cinema, and snack bar
6. Don't panic. Public bath doesn't really mean 'public'
After all the wandering, I finally headed back to women's sauna zone to take a shower and a bath. The public bath for men and women are completely separated, so no worries. Carry your key & towel and head downstairs to the bathing area where there's a washing area for you to take a shower and a bathing area where you can enjoy a refreshing bath experience.
You must take all of your clothes off, including your underwear. You'll feel embarrassed to get naked in front of so many people at first, but nobody really cares so just try to be natural. There are also various kinds of bath waters, so try each one! Don't forget that it's an etiquette to take a shower before you get inside a tub. 😉
7. You don't need to bring your own toiletries.
If you've forgotten to bring your toiletries, don't worry. There's a little store (a counter with a lady vendor) where you can buy all kinds of toiletries (mostly single-use) that you'll need for a shower or bath (like shampoo, conditioner, cleansing foam, etc).
If you are done taking a cool shower and a bath afterward, it's time to go home! Freely use the complimentary hair dryers, toner and lotion, cotton swab, and etc prepared at the powder section. 😉
Last words about my experience at Dragon Hill Spa
---
---
Of all the Korean bathhouses that I've been to, Dragon Hill Spa was absolutely the best. The spa and sauna experiences, along with various entertainment facilities, all of them were amazing.
Though taking off clothes and getting used to a public bath can be awkward at first, I think all of you will enjoy this unique Korean sauna culture. Those who want to unwind in the city, head to Dragon Hill Spa for a soak today!
👉BOOK DRAGON HILL SPA DISCOUNT TICKET HERE👈
And of course, never forget to visit Trazy.com to find out the latest, newest, trendiest things to do in South Korea!